Coconut Oil
Saturated-fat vegetable oil
Medium-chain fatty acids aka medium chain triglycerides
A tropical cuisine, Pacific Islanders that followed a coconut-based diet had none of the illnesses that plagued modern America such as, heart disease, cancer, diabetes, etc...
Most benefits of coconut oil are shared by both human and dog...
When taken internally people have reported it can:
Reduce the risk of cancer

Improves cholesterol levels and helps fight heart disease

Improves digestion and nutrient absorption

Heals digestive disorders like Crohn's disease, irritable bowel syndrome, ulcers, and colitis

Contains powerful antibacterial, antiviral, and antifungal agents that prevent infection and disease

Relieves arthritis

Prevents and treats yeast and fungal infections, including thrush and candidiasis

Prevents and treats viral infections, including herpes, measles, and the flu

Helps balance the body's metabolism and hormones

Promotes normal thyroid function

Helps prevent or control diabetes

Rejuvenates the skin and protects against cancer, age spots, acne, and other blemishes

Helps prevent osteoporosis

Reduces allergic reactions

Supplies fewer calories than other fats

Applied topically its boosters say that coconut oil also does the following:

Disinfects cuts promotes wound healing

Improves skin health and hair condition

Deodorizes whatever it touches

Clears up warts, moles, psoriasis, eczema, dandruff, precancerous lesions, athlete's foot, jock itch, diaper rash, ring worm, vaginal yeast infections, and toenail fungus.
Use unrefined virgin coconut oil
The best I found, and I use, is from Tropical Traditions. If you order from them, while filling out your information - In the How did you hear of us? section, select Referred by a friend in the drop down box Underneath this will be a place that says: "Referred by" with a place to type my User ID 414942
Use my user ID and get a free book! And I get free product. Thanks!
I use the Gold Label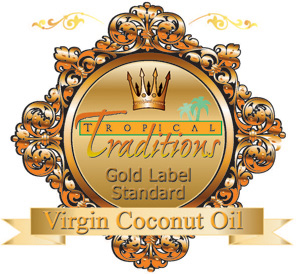 http://www.tropicaltraditions.com/virgin_coconut_oil.htm
General Daily Dose:
1 teaspoon per 10# of body weight
or
1 tablespoon per 30# body weight
Start at a lower dose than this, and build up!