Therapy Dogs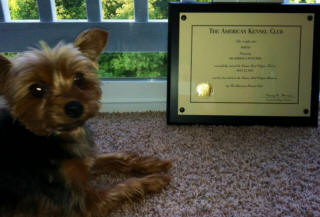 (Rocco with his certificate! Precision K-9 Trained and (CGC) Certified)
Rocco went on to be a Therapy Dog.
We have helped several people with getting their dogs trained for therapy work. We can help with any obedience you need. We can do the AKC "CGC" Certification (I am a Certifier for AKC) but any other "Certification" you may choose to do such as a TDI will need to be preformed by an individual or organization that offers them. In order to do TDI certifications you must first be a handler of a Therapy Dog, and that doesn't interest me personally. So I'm not going to train myself a therapy dog so I can do so many visits just to certify therapy dogs for other people. Sorry.
There are only a few extra exercises in addition to the CGC certification that makes up a TDI so once the CGC is completed the TDI would be easy to achieve. I would contact the location(s) in which you are going to take your dog into, for Therapy work, and ask them what they require(i.e. TDI,CGC), if anything.
A therapy dog provides therapeutic support to people other than its handler. Therapy dogs are frequently invited to visit schools, libraries, assisted living homes, hospitals and hospices, though a therapy dog handler has no special rights to be accompanied by their therapy dog anywhere that dogs are not generally allowed.
Training- Therapy dogs do not require any special training. They only have to know basic obedience and be well-behaved.
Therapy Animals are not legally defined by federal law, but some states have laws defining therapy animals. They provide people with contact to animals, but are not limited to working with people who have disabilities. They are usually the personal pets of their handlers, and work with their handlers to provide services to others. Federal laws have no provisions for people to be accompanied by therapy animals in places of public accommodation that have "no pets" policies. Therapy animals usually are not service animals.
Where You Can Take Your Therapy Dog?? A therapy dog handler has no special rights to be accompanied by their therapy dog anywhere that dogs are not generally allowed. Businesses, including hotels, motels, camps, apartments, condominiums and airlines, may and usually do treat therapy dogs as pets.
Generally these dogs have volunteer handlers for the purpose of visiting nursing homes, hospitals, other institutions and
wherever else therapy dogs are needed.
What are some of the rules? Depending on what organization your go with but here are some general guidelines...
Therapy dogs are personal pets which meet certain requirements of good manners and good health, and pass testing and evaluations:
Therapy dogs are not considered assistance dogs and do not have the legal access rights that assistance dogs have
Animals may not be fed a raw protein diet
Animals must be reliably potty trained
Animals must be on a leash at all times
Animals should have good basic obedience. For dogs this includes a reliable "sit", "down", "stay", "come", "leave it" and walking on a loose leash
Animals should have no history or aggression, including lunging , growling, biting, or seriously injuring either people or other companion animals. Please note: Dogs that have been trained to aggressively protect and/or have been encouraged to bite, even if it is a component of a dog sport, such as Schutzhund, may not Therapy Animals, in the eyes of some organizations.
Be at least one year of age
Be good around other dogs
Listen to their handlers
Allow strangers to touch them all over
Not jump on people when interacting
Walk on a leash without pulling
Not mind strange noises and smells Be calm for petting
Not be afraid of people walking unsteadily
Be current on all vaccines required by the local laws
Have a negative fecal test every 12 months
Be clean and well groomed
Links
West Virginia Consolidated Assistance Animal/Guide Dog Laws