Angie Cooper - Master Trainer/Instructor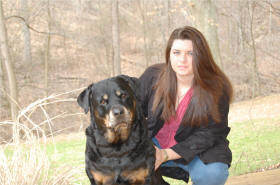 Born and raised in West Virginia, & had numerous animals growing up
Graduated from Hurricane High School in 1991.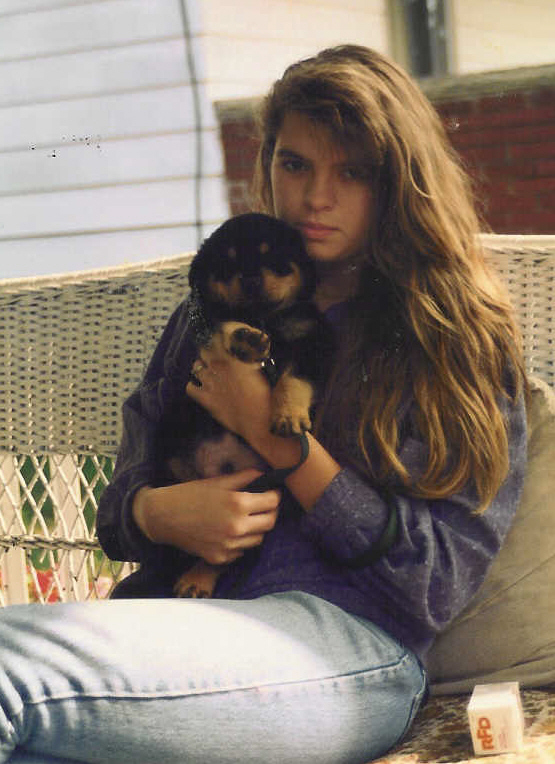 (Nick & I back in 1993.
I had dogs before but, Nick was my first purebred Rottweiler puppy, he began my training career. )
Bought my first Rottweiler in August 1993
Started serious dog training in early February 1994 after entering Lakeside Schutzhund Club in Ohio.
From 1994 - 1995 instructed dog obedience classes for Putnam County Parks and Recreation.
Privately trained individuals and their dogs in Obedience, including one dog used as a seeing eye dog, helped a few people in tracking for Search & Rescue.
~After training with police dogs from different departments in Ohio and West Virginia decided to attend Augusta K-9 Services in Virginia.~
*Certifications (Click HERE to see actual certificates and letters of references)
*"Master Instructor Trainers Course" Certificate
July 5th - September 27, 1996 Completed twelve weeks (600 hours) of instruction at Augusta K-9. In this course Angie lived in Va. for 3 months, ate, drank, slept, and worked dogs for the three months she was there. This training was about 10 hours a day M-F and half a day on Sat.
This course included instruction on...
Principles of Canine Behavior
Principles of Conducting Group Instruction
Conducting Group Instruction Lab
Principles of Kennel Management
Kennel Management Lab
Principles of Canine Obedience I
Canine Obedience I Lab
Principle of Canine Agility I
Canine Agility I Lab
Principles of Tracking I
Tracking I Lab
Principles of Canine Obedience II
Canine Obedience II Lab
Principles of Agitation
Agitation Lab
Principles of Personal Protection I
Personal Protection I Lab
Principles of Tracking II
Tracking II Lab
Introduction to Narcotics Detection
Intro to Narcotics Detection Lab
Principles of Police Service Work I
Police Service Work I Lab
Introduction to Small Business Management
Principles of Obedience III
Obedience III Lab
Principles of Tracking III
Tracking III Lab
Principles of Advanced Agitation
Advanced Agitation Lab
Principles of Protection II
Protection II Lab
Principles of Police Service work II
Principle of Canine Agility II
Canine Agility II Lab
Canine Breed Identification
Canine Nutrition
Advanced Kennel Management
Advanced Parasitology and Pharmacology
Evaluating Canine Prospects
Training the Companion Hearing Hearing Dog
Companion Hearing Dog Lab
Canine Breeding, Pediatrics and Genetics
Competition rules and regulations for A.K.C. and Schutzhund competitions
Advanced Business Management / Principles
~After Angie graduated from Augusta K-9, Angie and Jason started Precision K-9 Services in 1996.
*Explosive Detection K-9 Handler/Trainer, Nomad Kennels. Received a "K-9 Explosives Detection Trainer/ Handler" Certificate.
Memberships/Associations
Previous Active Member, Lakeside Schutzhund Club, Ohio
Current Member United Schutzhund Clubs of America
Previous Member of West Virginia Police Canine Association, WV
Previous Active Member of Mountain State Schutzhund Club, WV
Previous Active Member of West Virginia Working Dog Association, WV
Current Active Member United State Rottweiler Club
Previous Active Member of American Rottweiler Verein
Approved Trainer Ohio Peace Officer Training Academy
AKC CGC Approved Evaluator
Seminars
September 2000 Judges Handling Seminar by: Judge Hetje Lashley-Harmsma FCI Netherlands Hosted by Gateway Rottweiler Club USRC St. Louis MO.
2007 Nitro/St. Albans Police Fall K-9 Training Seminar
2007 Mountaineer Working Dog Assoc. Seminar
Competition
Columbus Schutzhund Association 9-24-94
Earned a "BH" on Sir Nicholas von Storm on April 29th 1995 @ Great Smokey Mountain Schutzhund Club Tenn.
Earned a "BH" on Mauser Vom Neuen Schloss on April 7th 2001 @Raleigh Schutzhund Association NC.
Earned a "AD" on Yara von der Schotterstrasse on April 22nd 2006
Earned a "BH" on Yara von der Schotterstrasse on August 26th 2006
Earned a "RN" on Yara von der Schotterstrasse on May 24th 2008
Earned a "RA" on Yara von der Schotterstrasse on August 31 2008
Earned a "RE" on Yara von der Schotterstrasse on September 21 2008
Earned a "CD" on Yara von der Schotterstrasse on October 18 2008
Earned a "AD" on Afra von der Schotterstrasse on July 26 2009
Conformation Shows
Showed Mauser @ Gateway Rottweiler Club St Louis Mo. USRC
Showed Mauser @ Southern Wisconsin Rottweiler Verein IL. ARV
Showed Mauser @ South East Regional Sieger Show North Carolina Rottweiler Verein NC. ARV
Showed Mauser @ National Clubsieger Show Southern Wisconsin Rottweiler Verein IL. ARV
Showed Mauser @ South East Regional Sieger Show North Carolina Rottweiler Verein NC ARV
Showed Mauser @ Northeast Regional Sieger Show Key Stone State Rottweiler Club Pa. ARV
Attended: 3/19/11 - 3/20/11 AIRK National Sieger Show, ZTP & Körung hosted by Eastern Carolina Rottweiler Klub (ECRK)
Attended: 6/5/11ARV South East Regional Sieger Show Hosted by Northern Ky Rottweiler Verein
Attended: 9/17/11 USRC Select Show Hosted by Bluegrass Working Rottweiler Club