(One-on-One Private Instruction)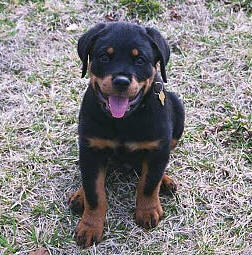 The most important time in your pups life! The rules (or lack of) you set now, how your dog views you, the socialization a pup receives, etc... during this time will make the difference in what kind of dog you'll have in the future!!!!!!
Our Puppy Class is designed to make the unruly puppy obedient without obstructing his natural tendencies and mental growth. This class can be very important for the family pet, and was created for that exact purpose. But for those planning on having the dog perform some type of work (service dog, personal protection, competition obedience, etc...) later in life, we can add exercises that will greatly benefit the puppy for that future work.
This class also covers becoming Alpha, socialization, and much more! Classes are Private, no need to worry about disease spreading, improper socialization, out of control dogs hurting yours, unknowledgeable owners letting their dog dominate your puppy, etc... Class is tailored to fit your situation.
More Details:
Class Frequency-- Four consecutive weeks - One time a week, for about one hour.
EQUIPMENT Needed-- 6 foot leash/ Crate (first class)/ flat buckle type collar/ soft treats/ water and a bowl. Click Here for more info on equipment explanation.

What is included-- "SIT", SIT- "STAY", "FREE" command, "LEAVE-IT"(4exercises), informal "DOWN", "OUT" command(getting things out of the puppies mouth), informal "COME" command, "OFF" command, "NO" command, we teach the puppy to not pull on the leash, and a "CRATE" command. Behavior problems housebreaking, chewing, nipping, etc.. are also covered. We talk about proper socialization, nutrition, grooming, proper toys, & becoming Alpha. Puppy class may contain more or less depending on individual problems and time.
Age requirement-- 8 weeks to 5 months
Prerequisite-- none
Cost-- $275.00
Prices are per dog
(even if two+ are brought at the same time)
With this class you will receive a unique Username and Password to access a protected area of the website for additional information.
Click HERE to sign up for a class!
Have more questions? Click HERE
See all Class Pricing HERE